Loudspeaker
A professionally planned positioning of the loudspeakers in a conference room/hall is decisive for optimal speech intelligibility. Architects and AV planners should exchange the necessary parameters here early and hand in hand.
Kling & Freitag Loudspeaker CA 106
This ultra-compact high-performance system, for short and medium listening distances, can be used universally and is considered an industry standard in the sector. In addition to operation with conventional amplifiers, operation via digital system controllers is also possible. A weatherproof version is also available.
Sennheiser LSP 500 Pro wireless audio system
Control via app
Saves time and money
no cables! Extremely fast assembly
Up to 70 % less build time
Saves up to 70 % of the cost of accessories (amplifier, mixer, cables).
up to 40 % less transport effort
More information
Dimensions (W x H x D): 290 x 550 x 320 mm (11.42″ x 21.65″ x 12.60″)
Acoustic design: 2-way closed system
Frequency range: 65 Hz to 18 kHz (-10 dB)
Output power: 55 W continuous power, 120 W peak power
Equalizer: semi-parametric, 3-band
MIC Input: XLR-3F/¼" (6.3 mm), jack combo jack, switchable phantom power 48 V
AUX IN Input: RCA stereo jack
LINE OUT Output: RCA stereo jack
LINK IN Input: XLR-3F
LINK OUT Output: XLR-3M
USB Port: USB 2.0
USB file formats: Playback: mp3, wav, aac, flac Recording: wav
Bluetooth Interface: A2DP with aptX®
WLAN Interface: IEEE 802.11b/g
Encryption: WPA2
Mains voltage/mains frequency: 100–240 V ~, 50–60 Hz
Batteries: 2 x Sennheiser LBA 500, Lithium Ion battery 14.4 V/4.4 Ah
Operating time: approx. 6 hours (speech)
Charging time: approx. 5 hours for two batteries
More information
JBL Loudspeaker Line Array VRX Systems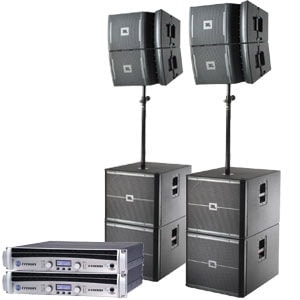 Line arrays are very suitable for the sound reinforcement of large rooms, if you can not or do not want to distribute several speakers in the room. Here JBL offers a good and easy to install speaker system.
Tannoy DI Series
The Di Series from British loudspeaker manufacturer Tannoy is designed for a wide range of applications in the installation sector. Due to their high sound quality, the speakers are suitable for the entire range of sound reinforcement systems, as main or background sound reinforcement, speech or music reinforcement. Their rugged yet lightweight construction makes them easy to install. In addition to this product line, Tannoy has speakers for almost every possible application. In addition to the classic surface-mounted speakers, you can find ceiling speakers, in-wall speakers, etc. A version of these speakers is available for connection to existing 100V sound reinforcement systems.
QSC Loudspeaker HPRiGroup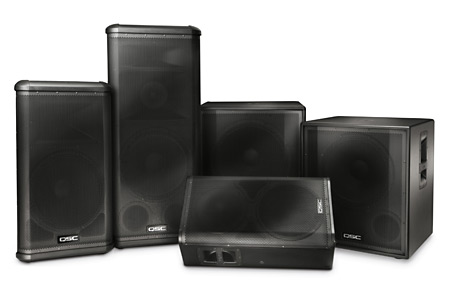 The HPR Series offers users the power, technology plus legendary reliability of QSC power amplifiers, combined with the ease and convenience of use that characterizes active speaker systems. Whether you just want to amplify vocals, play back music, or transmit other acoustic signals.
QSC Loudspeaker HPRiGroup
Active loudspeaker systems with QSC amplifier technology
High amplifier continuous power: subwoofer 700 watts and full-range speakers up to 600 watts
Robust housing made of 13-layer birch plywood
Sturdy front grille suitable for road
Integrated 35 mm stand mount(subwoofer and 2-way models)
M10 flight points for HPR122i, HPR152i and HPR153i models
Line speaker
In acoustically demanding rooms, excellent results can be achieved with line array loudspeakers, as they produce a narrowly radiating sound field.
Basically, these speakers can be divided into passive and active systems. Passive systems require a separate amplifier with signal processing. Active systems, on the other hand, already have an integrated amplifier and signal processing system with the help of digital signal processors (DSP). In many active systems, the vertical beam angles can be digitally controlled so that one or more listening zones can be precisely illuminated – such as in a theater, audience and tier. In this case, we speak of Beam Steering, where the coverage ratio is adjusted with the help of PC software.
High radiation angle, thus uniform sound field
Optimal in combination with microphones, insensitive to feedback
Invisible integration in plasterboard, wood or other surfaces possible
Up to 100 dB SPL possible
Low installation depths, max. 40 mm
100 V versions available
RCF L2406-T
An example of a passive line source loudspeaker is the L2406-T from RCF. The loudspeaker is characterized by the following features:
6 x 5" LF, 4 x 1" HF
200 watt power handling
150° horizontal, 30° vertical propagation
Frequency range 110 Hz – 20 Hz
Ball impact resistant housing
Tannoy QFlex Series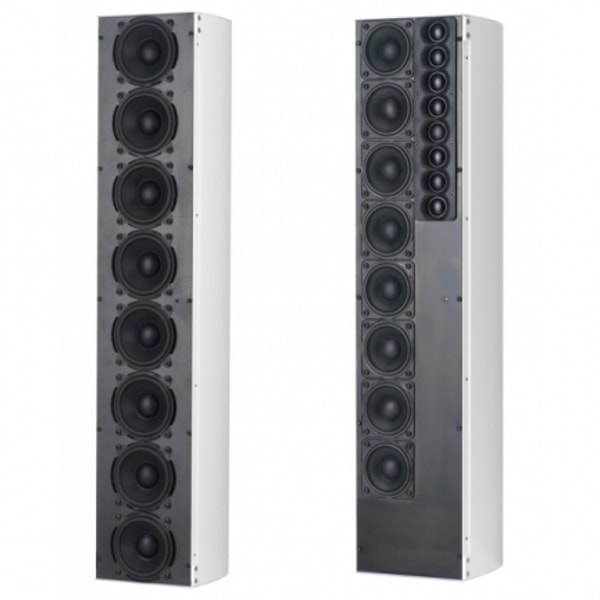 An example of an active, digitally controllable line source loudspeaker is Tannoy's QFlex series, shown here is the QFlex 24.
8 x 4" LF, 8 x 3" LF, 8 x 1" HF
Integrated DSP and digital amplifier
120° horizontal spread, variable between 10° and 100° vertically controllable
Frequency range 110 Hz – 20 kHz
Application distance up to 40 m
27 kg weight
In addition to these speakers, we also sell line speakers from Duran Audio, Pan Acoustics, Clearvoice System, etc. When using line speakers, exact planning is indispensable. We will be glad to advise you!
Flat diaphragm loudspeaker
Flat diaphragm loudspeakers based on the DML principle (Distributed Mode Loudspeaker) are suitable for invisible installation in ceilings, walls or furniture. The rectangular panels, equipped with two or more exciters, can be invisibly plastered into plasterboard surfaces or also used in furniture construction behind a wood layer of maximum 2.5 mm.
The use of flat-diaphragm loudspeakers creates a sound field that can hardly be located and is evenly distributed in the room, which is particularly suitable for background sound reinforcement, but also as high-quality ceiling sound reinforcement. In combination with microphone systems, flat-diaphragm loudspeakers are much more resistant to feedback than conventional cone loudspeakers.
High radiation angle, thus uniform sound field
Optimal in combination with microphones, insensitive to feedback
Invisible integration in plasterboard, wood or other surfaces possible
Up to 100 dB SPL possible
Low installation depths, max. 40 mm
100 V versions available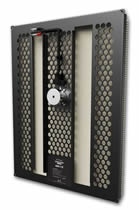 PCS distributes flat-panel loudspeakers from the manufacturers Sonus, ML Audio and Amina. When using flat-panel loudspeakers, exact planning is indispensable. We are happy to advise you!
Amplifier
Crown AMP with DSP 2000 Series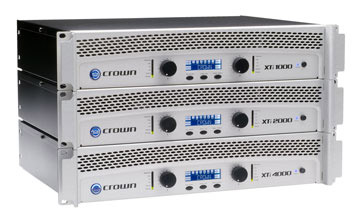 The XTi amplifier series consists of the models XTi 1000, XTi 2000, XTi 4000 and XTi 6000. All models are extremely robust and very lightweight. The power amplifiers combine flexible DSP controller and amplifier functions in one unit. Their outputs range from 2x 500 to 2x 2100 watts into 4 ohms.