Logging
There are various devices on the market for conventional audio recording of conferences. While outdated devices such as tape recorders and dictation machines have gone out of fashion, MD recorders and CD recorders have joined the old-fashioned cassette recorders and DAT recorders. Hard disc recording is also becoming more and more affordable. Quite apart from this hardware, however, the trend is now gradually moving towards software recording. Here you need a PC or a notebook, a microphone or USB microphone and the appropriate software – already the recording can begin.
MP3 Recorder Marantz

Probably one of the most popular recording devices of modern times is an MP3 recorder. Here, an audio recording takes place, for example, on a commercially available storage medium such as the CompactFlash card. Through a serial interface (RS-232C) or through an Ethernet interface (LAN/RJ-45), the more professional devices can be controlled and read out via PC, often a USB port is now also available for a data transfer.
DAT Recorder

While the DAT format had a hard time establishing itself in the consumer sector in the 1990s, this technology has managed to hold its own as a classic medium in studios and in the professional sector to this day, because it offers the advantages of a long playing time (of up to three hours) as well as lossless, uncompressed and also high-quality recording.
Software for protocol and recording – stenos-s
steno-s 4

The steno-s transcription software is a powerful tool for audio recording at conferences, meetings or in the courtroom. With steno-s, the recorded material can be optimally managed and archived through various functions such as markers, integration of media files (e.g. Word, Excel, PowerPoint) and comments.
With steno-s, you can easily access individual content even after your meeting. Resolutions, comments or questions are identified by markers in the recording and can thus be easily listened to again to create the minutes. For paperless archiving, simply burn your recording to CD or make the data available on your network.
steno-s 4
Some features of steno-s 4:
Long-term recording over several hours/days
Simultaneous recording of multiple channels
Embedding of any files (e.g. Excel or PowerPoint)
Integration of e-government applications (e.g. ALLRIS)
Changing the playback speed without pitch shifting
Playback of the meeting while the recording is still running
Convenient playback control via optional USB footswitch
Free steno-s Player mode for playback of recorded meetings
Please note: steno-s 4 is only compatible with Windows 7 and higher. If you need steno-s for an earlier version of Windows, just contact us.
Various operating devices such as foot switches, headphones and USB microphones are also available to match the software:
Chin Bar Headphones Steno-S STA-22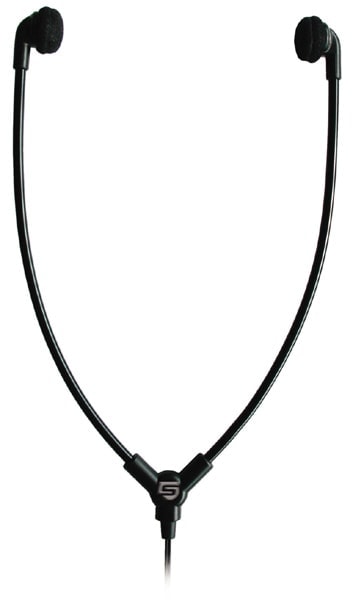 STA 22: chin bar earpiece with 3.5 mm jack
Features:
2.5 m cable with integrated volume control
3.5 mm jack plug
Stereo connection, 21 Ohm, 20-20,000 Hz
direct connection to the PC possible
Foot switch Steno-S STA-44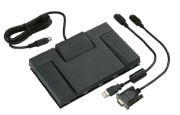 With the foot switch STA-44 you can control steno-s and the free Steno-S Player without using the mouse or the keyboard. The foot switch can be connected to your computer via RS232 or USB interface. It is operated via 3 touch surfaces, which can be customized in the settings options of the Steno-S software.
MPC 70 USB boundary microphone
The MPC 70 USB is a boundary microphone with standard USB connector. The microphone can be used for software applications such as steno-s, but can also be integrated into video conferencing systems, for example, where it offers new possibilities for recording and voice quality.
MPC 70 USB boundary microphone
The integrated membrane switch can be used to switch between the three operating modes On/Off, Push to Talk or Push to Mute, depending on the application. The LED indicator lights up red when the microphone is activated. The sensitivity of the microphone can be preselected in two levels. In addition, a bass cut for structure-borne sound decoupling can be switched. The cable is detachable, and the three-meter length makes it easy to place the MPC 70 on the conference table.