Projectors
A small selection of professional, quiet and extremely powerful projectors. If you are interested in projectors, just contact us, we will find the right model, tailored to your needs.
Panasonic LCD Projector PT-EW630U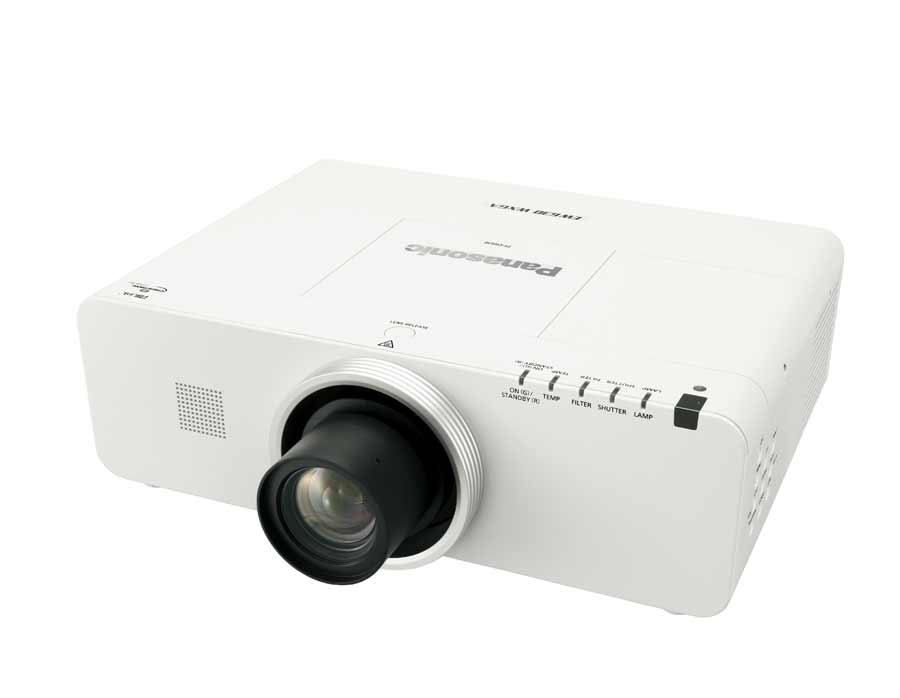 Panasonic LCD Projector PT-EW630U
Panasonic's PT- EW630U LCD projector offers WXGA (1,280 x 800) resolution, 5,500 lumens of brightness and a 5,000:1 contrast ratio.
It is versatile, e.g. in classrooms , lecture halls or offices and offers maintenance-free operation of up to 10,000 hours.
Panasonic LCD Projector PT-EW630U
Specifications
Panel size (diagonal): 19.0 mm (0.75 ") diagonal
Aspect ratio: 16.10
Display method: Transparent LCD panel (x 3, R/G/B)
Resolution: WXGA (1,280 x 800 pixels)
Screen size: 1.02 to 10.16 m
Lamp: 330W UHM lamp x 1
Lamp replacement cycle: 3,000 hours1 (Lamp power: normal) – 4,000 hours1 (Lamp power ECO)
Brightness: 5,500 lumens 2
Contrast ratio: 5000: 12 (Full On / Full Off, Lamp power: AUTO)
Control (RS-232C compatible)
REMOTE IN: M3 x 1 for cable remote control
Power supply: 100-240 V AC, 50/60 Hz
Power consumption: 490 W (492 VA) (0.4 W with STANDBY MODE on ECO4 11 W with STANDBY MODE on NETWORK
Dimensions (WxHxD): 489.5mm x 164mm5 x 434 mm (19-9 / 32 x 6-15 / 325 x 17-3 / 32 inches) (with the lens included)
Mechanical shutter: Yes
Filter: x 1, recommended replacement cycle: 12,000 hours
Keystone correction range: Vertical: ± 40 ° 7, horizontal: ± 30 ° 8
Optical axis shift: Vertical: ± 60% (powered), horizontal: ± 10% (powered) 9
Weight: (approx.). 10.3 kg (£22.7) (with supplied lens) 10
Built-in speaker: 10 W (mono) output power
Noise level: 37 dB (LAMP POWER: NORMAL), 31 dB (LAMP POWER: ECO 1 / ECO 2)
Included accessories: power cord, power cord holder, wireless / wired remote control unit, batteries (R03 / LR03AAA type x 2), computer cable, software
Barco PHXG-91B
Barco – 8,500 Lumens, XGA, single-chip DLP Present Projector
This 8,500 lumen XGA resolution projector is perfect for professional large screen projections in your stylish meeting room or boardroom.
Barco PHXG-91B
Stylish design that fits seamlessly into your interior
High quality images with an unparalleled level of detail and highest contrast
Button-free and cable-free for easy operation and less cable clutter
Reliable DLP technology
Easily expandable "future connectivity add-ons
Low cost due to DLP technology and sealed optics
Preset image mode enables flexible color management
Intuitive operating menu with the most frequently used functions
User-friendly remote control. You only need one button!
ClickShare Inside
This projector supports optional connection modules. This makes it easy to upgrade with additional features and future-proof it. Based on Barco's Click Share wireless presentation system, the 'Click Inside' option can be integrated into the projector and allows you to send and share content from your laptop's screen wirelessly to the projector with one click and without cables – for true collaboration.
Panasonic Laser DLP Projector PT-RW330E LE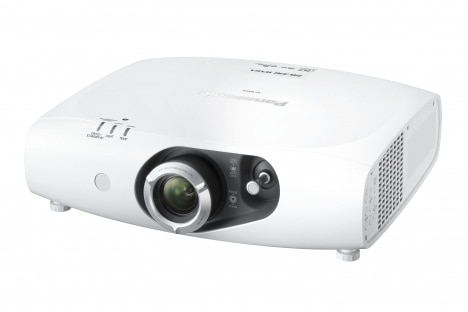 The PT-RW330 LED/Laser DLP projector is part of Panasonic's SOLID SHINE projector series. It offers high reliability and long-lasting brightness that could not be achieved with 'conventional' projectors until now.
Panasonic Laser DLP Projector PT-RW330E LE
Brightness of 3,500 lm with WXGA resolution
Contrast ratio of 10,000:1
Up to 20,000 operating hours without maintenance
LED/laser design ensures that neither a lamp nor a filter needs to be replaced
Long-lasting image quality and superior color reproduction
Thanks to DIGITAL LINK compatibility, video, audio and control signals can be transmitted up to 100 meters over a single LAN cable.
Maintenance-free
The new LED/laser combination as a light source in projectors ensures approximately 20,000 hours of operation without the need to replace a lamp or filter. This drastically reduces maintenance costs and effort.
High reliability
With the cooling system specially developed for the new light source and the dust-protected housing construction, the system has been designed in particular for maximum operational reliability. It enables reliable use of the projector, even over a long period of time.
Flexible installation
System features such as dual zoom lens, large lens shift range and 360° mounting option provide a lot of flexibility during installation. Compatibility with DIGITAL LINK enables digital signal transmission with only a single LAN cable – even over long distances.
What is DIGITAL LINK?
DIGITAL LINK enables the simultaneous transmission of video, audio and control signals up to 100 meters over a single CAT5e/6 network cable. This simplifies wiring or future system expansion and helps save associated costs.
Sony VPL-SW536C Ultra Short Distance Interactive Projector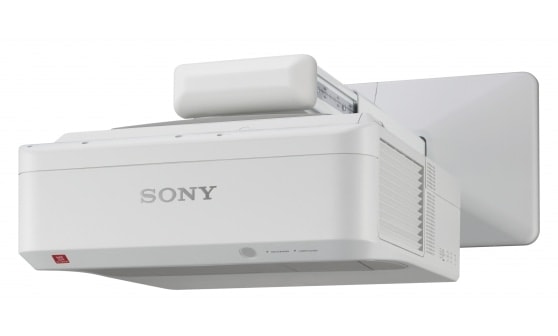 Sony VPL-SW536C Ultra Short Distance Interactive Projector
This economical and interactive ultra-short-throw projector with Wi-Fi capability creates the basic conditions for bright, effective presentations in the classroom or educational setting. Designed for wall mounting in small to medium sized rooms, it projects sharp, highly visible images onto the screen, wall or whiteboard. Since the projector is placed very close to the screen, it does not dazzle students or teachers/lecturers.
Sony VPL-SW536C Ultra Short Distance Interactive Projector
With the interactive software for two pens (included), the teacher and student can simultaneously draw and write with handwriting recognition. When creating tables and charts, you have versatile 2D and 2D graphing tools, as well as formula and calculation functions. You can modify objects and create screenshots for students' records.
Extremely clear, bright images with a maximum color light output of 3100 lumens. The projector's high light output ensures that presentations are easy to see in any classroom or meeting room. With three brightness levels, projection can be adjusted to any lighting situation – from daylight to dim.
WXGA resolution for detailed presentations. The WXGA resolution (1280 x 800) shows all details, making it perfect for presentations held directly from a notebook or PC.
3LCD BrightEra™ technology. The projector's efficient 3LCD panel system is complemented by Sony's advanced BrightEra™ technology. The difference is immediately apparent: impressively bright, high-resolution images and high panel reliability.
Six image modes for any application. Six picture modes - Dynamic, Standard, Game, Blackboard, Cinema and Presentation – - allow you to adjust picture quality for any source material. The picture modes can be combined with three brightness modes (High, Medium, Low) to adapt the projection to almost any presentation condition.
Wi-Fi function for easy data exchange. The optional IFU-WLM3 USB WLAN module enables connection to other classroom devices such as PCs, smartphones and tablets.
Present from any PC via the network. Presentations can be easily projected either wirelessly (with optional Wi-Fi module) or via a LAN cable from any PC connected to the network. The projector's functions and status can also be accessed and managed from any teacher PC on the network.
Display images directly via USB. Photos, images and graphics can be displayed without a PC via the USB port.
With the reduced maintenance, which also has a positive effect on operating costs, you can now teach for longer without interruption. Filter cleaning cycles are synchronized with lamp replacement, further reducing maintenance requirements.
Power saving at the touch of a button. The ECO MODE button on the projector or on the remote control gives access to a number of energy saving settings.
Automatic dimming. If no signal is fed in or if a certain predefined time has elapsed, the projector brightness can be reduced automatically. This saves energy and reduces the electricity bill.
Automatic brightness adjustment. The laser output power automatically adjusts to the image content. In this way, the device saves energy during low-light scenes.
Power saving image blanking. With the touch of a button on the projector's remote control, the image can be turned off instantly. This reduces energy consumption by 75 %. After another press of the button, the projector will instantly turn the image back on, allowing the presentation to continue.
Fast and easy automatic input detection. The projector automatically detects the correct connection, making setup easier and faster.
Easy installation. The adjustable optical zoom and lens shift allow the unit to be quickly and easily installed in any classroom. The versatile connectors make it easy to connect to PCs, DVD players, microphones, and other AV devices.
Integrated safety precautions. The projector is protected against theft with a PIN code and sturdy security latch.
Optics for projectors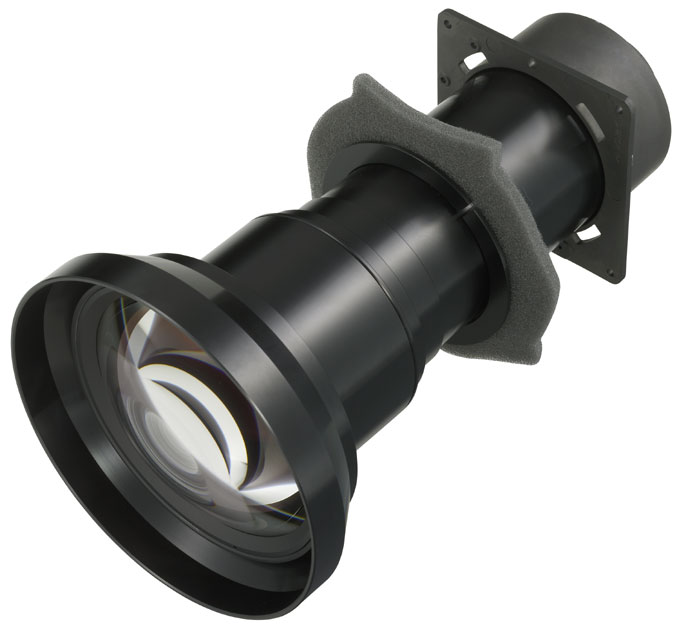 Sony lens VPLL1008
Optics for projectors
With different optics, professional projectors can be adapted for almost any distance and screen size. We take all important parameters into our planning and submit you a recommendation for the right use of your projectors including suitable optics and necessary accessories.