Visualizer
What is a Visualizer? A Visualizer can quickly and easily capture any type of artwork (books, photos, three-dimensional objects, etc.) and provide a high-resolution image for beamers, monitors, digital whiteboards or video conferencing systems. Typical applications for Visualizers include training, meetings, conferences, seminars and product presentations. Likewise in presentations of evidence in courtrooms, various medical applications (telemedicine, telepathology, x-rays, etc.).
Desktop Visualizer – VZ-9plus³
The Visualizer VZ-9plus³ is WolfVision's top of the line portable Visualizer. It outperforms the VZ-8 Visualizer series:
even more useful and unique features
even easier to use (easier positioning of objects)
even better image quality
The third generation of the VZ-9plus³ impresses with a completely revised housing - new, modern and elegant.
Ceiling Visualizers VZ-C12³ / VZ-C32³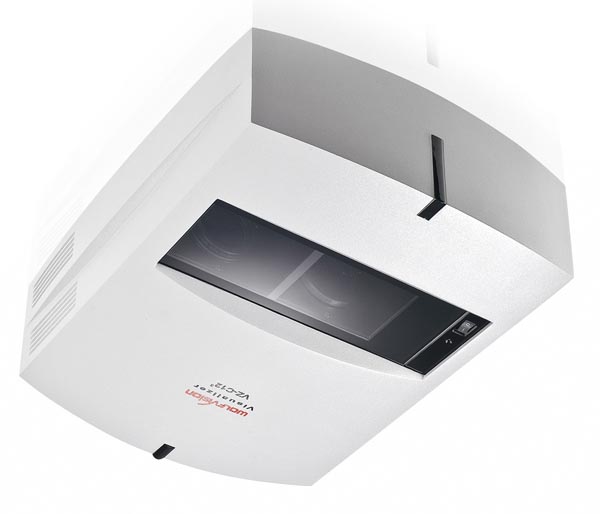 A Ceiling Visualizer can be mounted on the ceiling like a projector or built into a suspended ceiling. There is no device on the table or lectern, and nothing obstructs the view between the speaker and the audience.
Ceiling Visualizers VZ-C12³ / VZ-C32³
Other advantages include:
the Visualizer can be completely hidden in a suspended ceiling
fixed installed device, which can hardly be stolen
no cables from the table to the device
Objects can be even larger and even higher
Features, design and connections of the VZ-C32³ are identical to those of the Ceiling Visualizer VZ-C12³. The big difference is the built-in camera:
VZ-C12³ = 1-CCD SXGA/WXGA/720p HD camera
VZ-C32³ = 3-CCD SXGA/WXGA/720p HD camera
The 3-CCD camera of the VZ-C32³ surpasses the camera of the VZ-C12³ in its color fidelity and resolution. This is particularly visible with very detailed, multi-color originals.