Rent interpreting booths Duisburg, rent interpreting booths in the Rhine-Ruhr region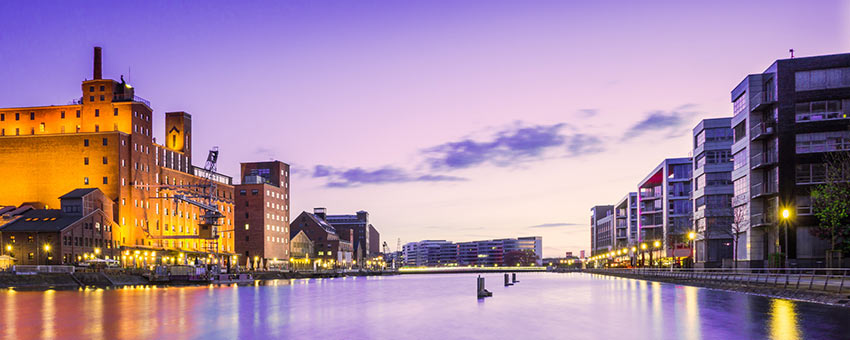 From its headquarters in Düsseldorf, PCS supplies Duisburg and the Rhine-Ruhr region with high-quality interpreting booths from the Dutch brand manufacturer Audipack. Interpreter booths are used wherever the services of simultaneous and conference interpreters are required. This is the case at multilingual congresses as well as at multilingual conferences, specialist meetings, shareholders' meetings or EU works council meetings. In addition to the larger conference hotels, typical venues in Duisburg include the Mercatorhalle in the City Palais Duisburg or the facilities of the University of Duisburg-Essen. And interpreting booths are also used in the Rhine-Ruhr region for court hearings in which simultaneous interpreters are required to speak.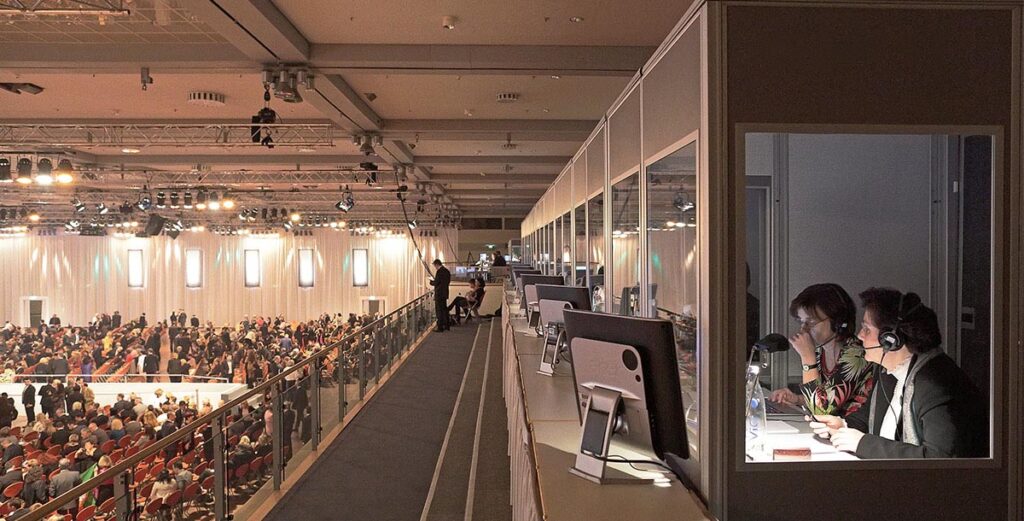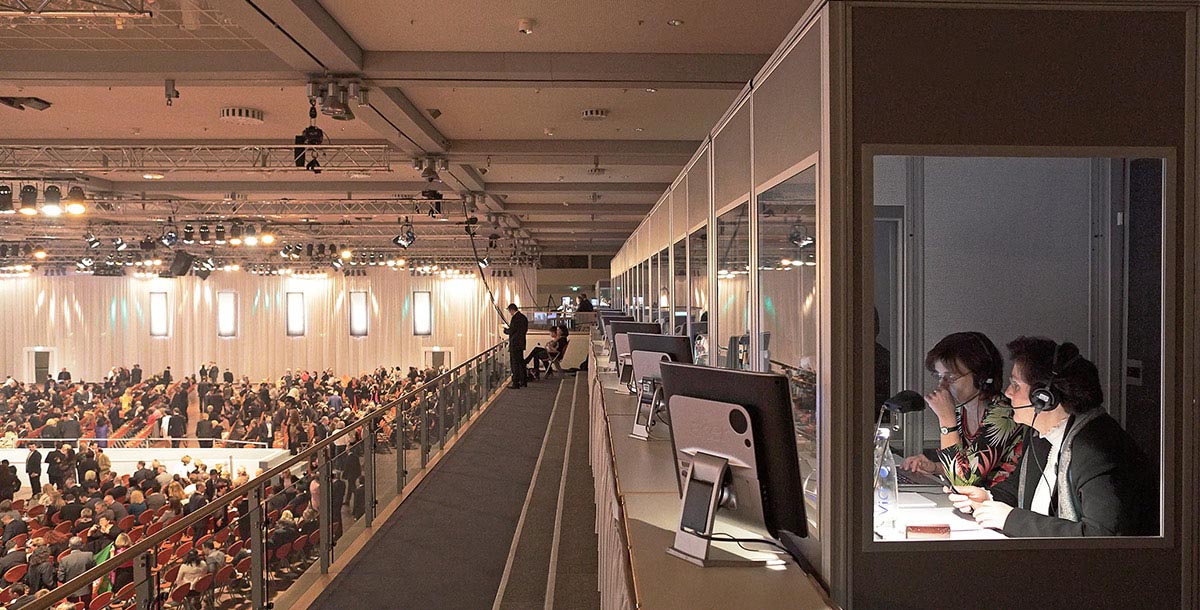 Audipack Silent 9300 – Industry Standard for Duisburg
The decisive factor for interpreter booths is that they offer conference interpreters the best possible workplace on the one hand, and on the other hand that they can be quickly and easily assembled and set up at the respective conference location. When renting interpreting booths in Duisburg and the surrounding area, PCS relies on booths from the Audipack Silent 9300 series, which is now the industry standard and compatible with all common interpreting systems. The main feature of these booths is that they are virtually soundproof, providing conference interpreters with a workplace where they can concentrate fully on their work. Furthermore, they are equipped with a quiet ventilation system and large windows that provide interpreters with a good view of the conference and the podium.
Specifications of PCS interpreting booths (Audipack Silent 9300 Series)
Audipack interpreter booths are certified according to ISO 4043/2016 standard and DIN 56924.
160cm x 160cm x 200cm (W/D/H)
168cm x 168cm x approx. 220cm (with fan, W/D/H)
(Please allow 0.5m space on the left, right or back for door and passage)

Floor plan of PCS interpreter booths

Downloads: Manuals, assembly instructions, info brochures
Rent interpreting booths – numerous additional services
In addition, translator booths of the Silent 9300 series from Audipack score with the following features:
When renting out translator booths in Duisburg and the Rhine-Ruhr region, PCS relies on a comprehensive range of additional services, some of which are free of charge, that can be called upon as needed:
If you need interpreting booths for your event in Duisburg or the Rhine-Ruhr region, the best thing to do is to contact the PCS corporate headquarters in Düsseldorf. We offer customized solutions exactly for your event.

Interpreter booths for rent Duisburg
Venues for events and congresses in Duisburg
Duisburg North Landscape Park
City Palais Duisburg
University of Duisburg-Essen
Community center Hagenshof Duisburg
Rheinhausen Hall Duisburg
Adult Education Center Duisburg
Duisburg City Library
Music and Art School Duisburg
Theater Duisburg
Theater at the Marientor
KOM'MA Theater
Local harmony
The column
Lehmbruck Museum
cubus art gallery
Small concert hall Duisburg
Küppersmühle
MEZZOMAR lake house
Steinhof Duisburg
interlockingHOF
Schauinsland Travel Arena
The most important event hotels in Duisburg
Maritim Hotel Duisburg
Wyndham Duisburger Hof
Mercure Hotel Duisburg
IntercityHotel Duisburg
The most important trade fair dates in Duisburg
Locations Rhine-Ruhr
Building & Living Duisburg
Health Fair-Duisburg
architectureworld
FORUM BEFA Duisburg
HistoriCar
jobMESSE Duisburg
International cat show Duisburg
Wonderful wedding Duisburg
Photo+Adventure Duisburg
Fishing
The Wedding Show by Gala Rhein-Ruhr
Service, acceptance, offers
Our colleagues will help you answer your questions, advise you on products, create a personal offer or individual project planning.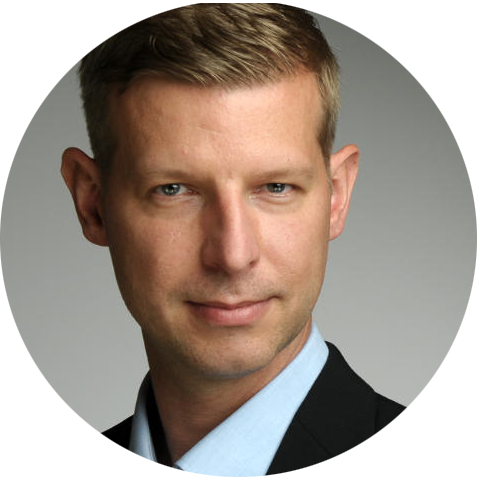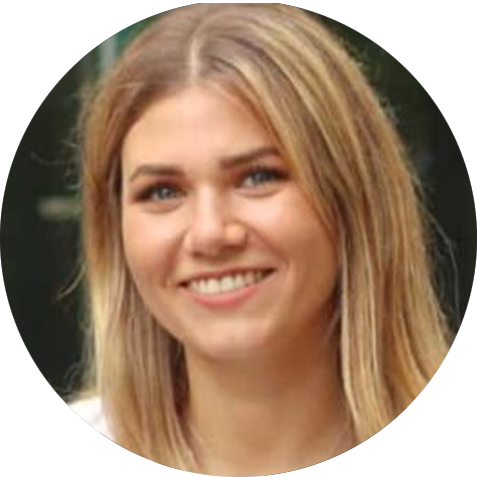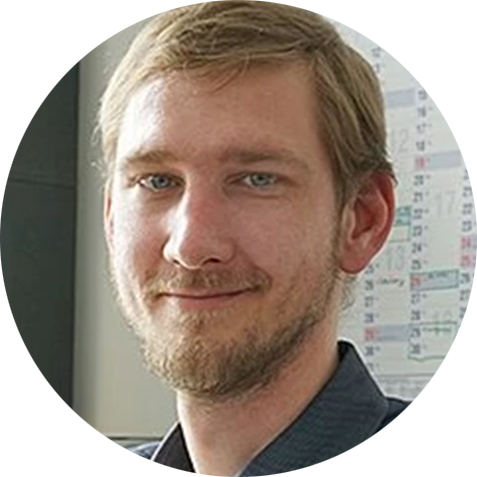 Callback service / e-mail inquiry