Rent interpreter booths Nuremberg: rent interpreter booths in Franconia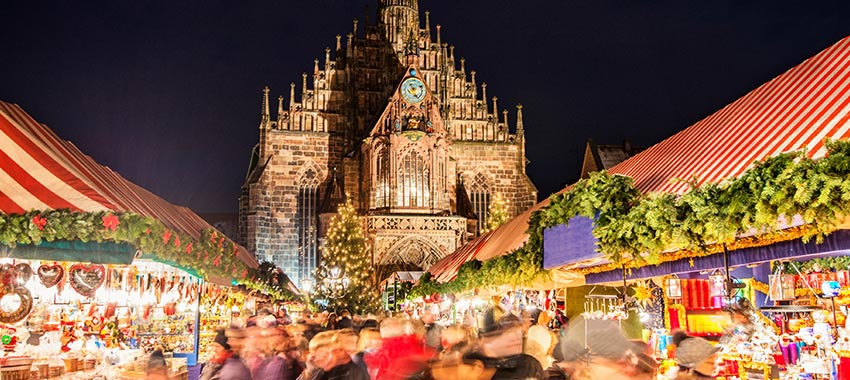 A good working environment contributes significantly to successful work performance – this also applies to conference interpreters, whose workplace is very often located in interpreter booths set up in large conference rooms. In order for simultaneous interpreters to be able to concentrate fully on their very demanding work, translator booths should be as soundproof as possible and also offer interpreters an optimal workplace from a technical and ergonomic point of view.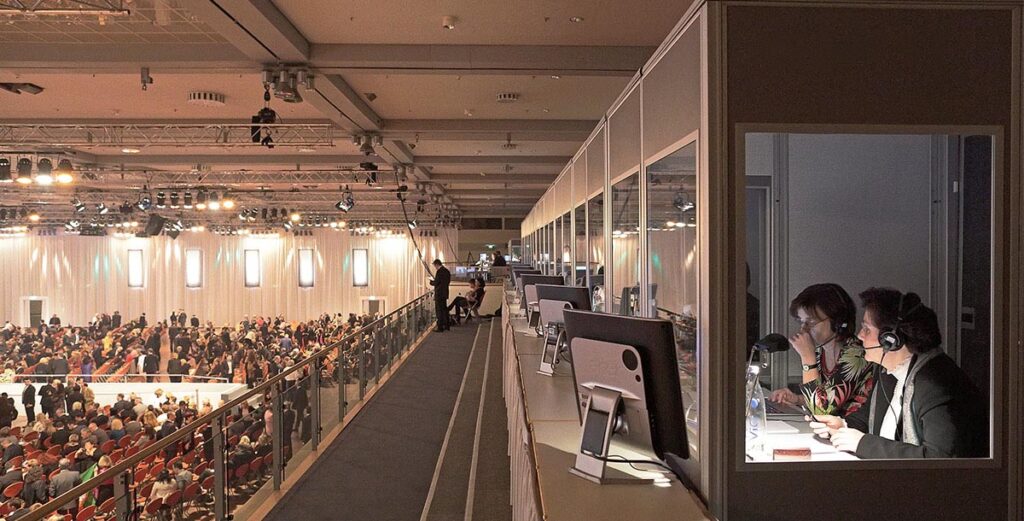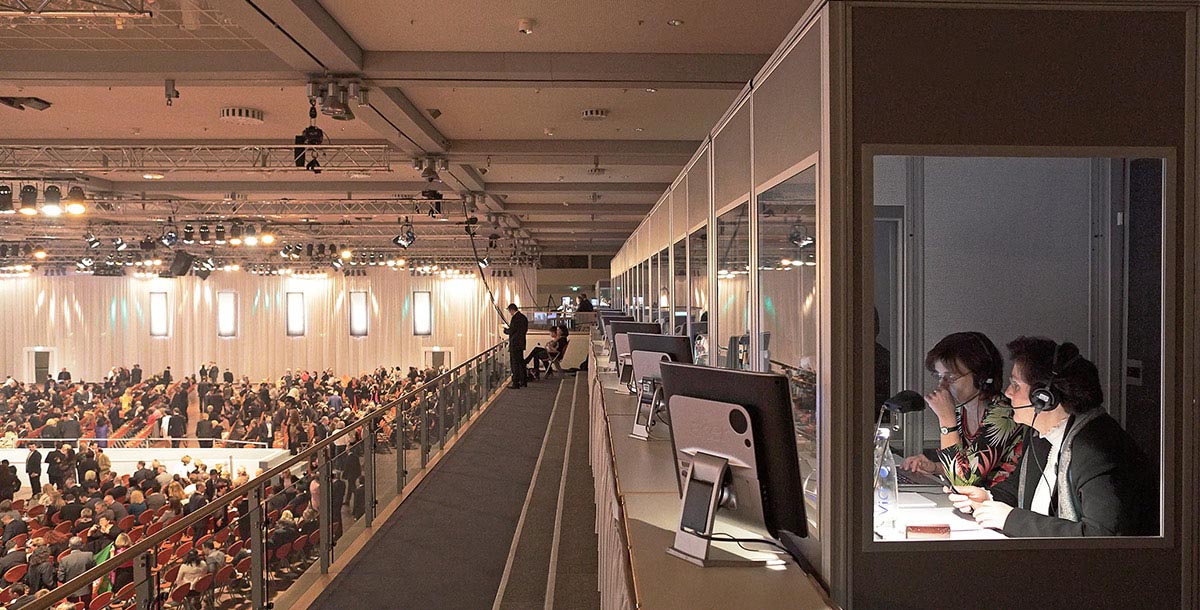 Interpreting booths in Nuremberg: PCS sets the standards
PCS rents out interpreting booths of the Silent 9300 series from Audipack in Nuremberg and the Franconia region. These booths are now industry standard –, not least due to their high technical quality, and are therefore compatible with all common interpreting systems. In addition to the rental of individual booths, PCS offers comprehensive all-round solutions for interpreting booths and conference technology for the region around Nuremberg: from planning and technical advice in advance, through punctual delivery and equipping of the booths at the event location, to support for the interpreters and the installation of further conference technology.
Interpreting booths in Nuremberg: PCS sets the standards
Technically, the interpreter booths of the Audipack Silent 9300 series are characterized by the following features:
Rent interpreting booths for conferences in Nuremberg and surroundings
Interpreting booths rented from PCS are also used in the Nuremberg Metropolitan Region and in Franconia at multilingual congresses, shareholders' meetings, corporate events, board meetings, EU works council meetings and many other events. Typical venues are the facilities of the Nuremberg Exhibition Center, the Arena Nürnberger Versicherung as well as the Frankenhalle – and of course the numerous conference hotels in the Nuremberg Metropolitan Region.
Request interpreting booths without obligation from PCS Konferenztechnik
Inquiries by e-mail are usually answered by PCS within an hour, and PCS also offers a 24-hour hotline with technical advice. For an initial concrete quote on interpreting booths, it is also important for customers from Nuremberg and Franconia to be clear about how large the event space is, how many people are expected at the event and how many languages are to be translated into. Nuremberg and the Franconia region are served by both the PCS branch in Munich and the Heilbronn office.
The soundproof interpreter booths / speaker boxes of the Audipack Silent 9300 series are supplied in a discreet light gray or mouse gray color with interior dimensions of 160 x 160 x 200 cm. The external dimensions are 168 x 168 x approx. 220 cm, the weight of a standard booth is 210 kg.
Specifications of PCS interpreting booths (Audipack Silent 9300 Series)
Audipack interpreter booths are certified according to ISO 4043/2016 standard and DIN 56924.
160cm x 160cm x 200cm (W/D/H)
168cm x 168cm x approx. 220cm (with fan, W/D/H)
(Please allow 0.5m space on the left, right or back for door and passage)

Floor plan of PCS interpreter booths

Downloads: Manuals, assembly instructions, info brochures

Interpreter booths for rent Nuremberg
Nuremberg conference hotels
Ringhotel Loew's Merkur Nuremberg
Park Inn by Radisson Nuremberg Hotel
Mövenpick Hotel Nuremberg Airport
Le Méridien Grand Hotel Nuremberg
Novotel Nuremberg at the exhibition center
Congress Hotel Mercure Nuremberg at the Fair
Arvena Park Hotel Nuremberg
Hilton Nuremberg Hotel
Ramada Nuremberg Parkhotel
The most important exhibition dates and venues in Nuremberg
NürnbergMesse
Congress Initiative Nuremberg
NürnbergConvention
International Toy Fair
NCC West
NCC Center
NCC East
Franconia Hall
Hirschaid Energy Park
Congress Center Heinrich-Lades-Halle
Meistersingerhalle Nuremberg
Service, acceptance, offers
Our colleagues will help you answer your questions, advise you on products, create a personal offer or individual project planning.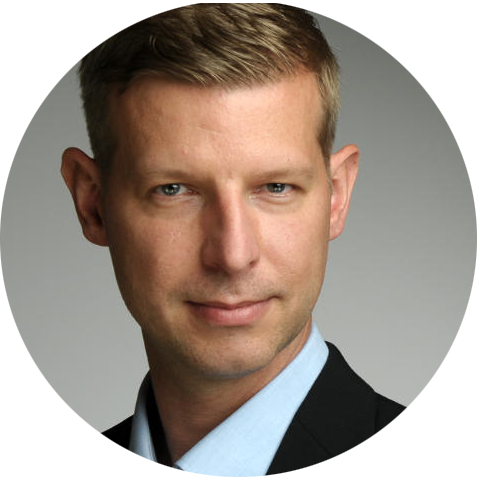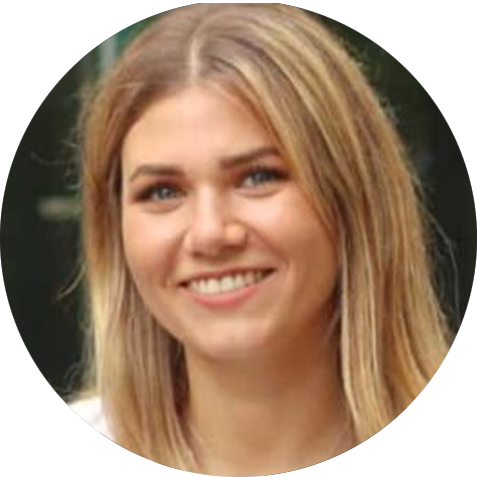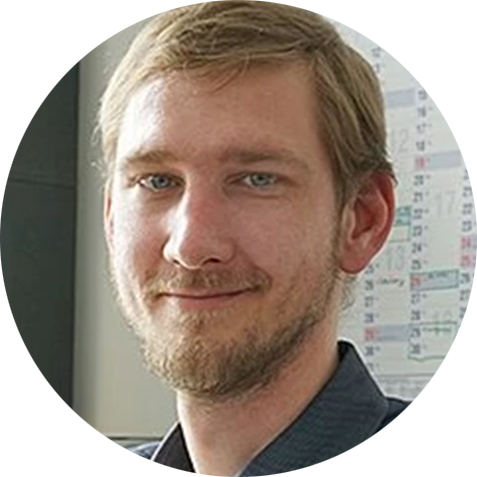 Callback service / e-mail inquiry