Rent guide systems Innsbruck: rent tour guide systems, whispering systems and pefas in Tyrol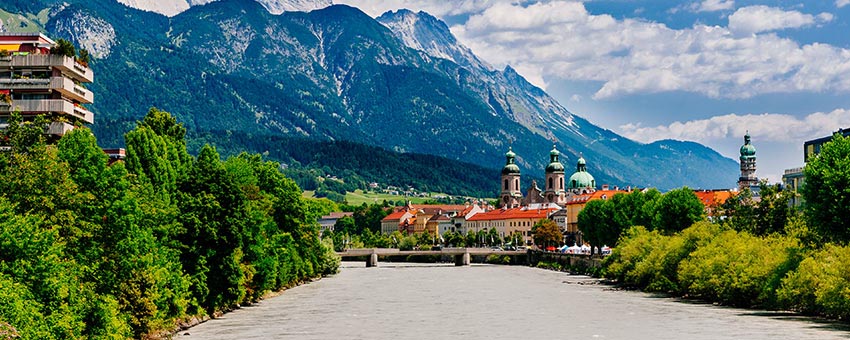 [spacer size="20″]
Conveniently located in the middle of the Alps and equipped with several universities, the Tyrolean capital Innsbruck has long been a popular venue for trade fairs, congresses and (tourist) events. Central venues include the congress center "Congress Innsbruck"" at the foot of the Nordkette, the Innsbruck Trade Fair Center, which is also close to the city center, the Congress Park Igls, the Olympiaworld Innsbruck and the ski jumping stadium at the Bergisel.
Guiding systems for Tyrolean hotels, congresses and events
For events, congresses, conferences, but also for city tours as well as factory and museum tours, tour guide systems can be rented quickly and easily from PCS. The conference technology provider PCS supplies Innsbruck and Tyrol with tour guide systems, whispering cases, Pefas, factory tour systems and personal tour systems (PFA) from its branches in Munich and Heilbronn. Renting tour guide systems and similar systems has numerous advantages over buying them for Tyrolean conference hotels as well as for whispering interpreters, congress and event organizers: Those who rent guide systems instead of buying them have 100 percent tested systems at their disposal, which are precisely matched to the requirements of the respective event as well as always hygienically cleaned. Inquiries by e-mail are handled by PCS within one hour in most cases, and there is also a 24-hour hotline with detailed technical advice. Hygienically cleaned and always provided with newly packed earphones, PCS delivers tour guide systems and Pefas directly to conference centers, congress hotels, event locations and to conference interpreters in Tyrol.
Brand manufacturer on call
As far as the equipment is concerned, PCS relies primarily on brands from the manufacturers Beyerdynamic and Sennheiser. Among others, the following systems are available for Innsbruck:
Devices Beyerdynamic:
Radio receiver Synexis RP8
Pocket transmitter with lapel microphone Synexis TP8
Handheld microphone Synexis TH8
Stationary transmitter TS8
[spacer size="20″]
Devices Sennheiser:
Tour guide headphones HDE-2020
Tour Guide Handheld Microphone SKM-2020
Tour Guide Pocket Transmitter SK-2020-D
Charging case EZL 2020-20L
[spacer size="20″]
Technically, Pefas, personal guide systems and tour guide systems work in a very similar way: one person is always connected to a group of listeners by means of microphones and transmitters as well as receiver units and headphones. In addition to the applications mentioned above, these devices are also used in interpreted conferences and court hearings, among other things. In connection with the issue of accessibility, guide systems are also increasingly being used in Innsbruck and the surrounding area in the area of hearing assistance for people with impaired hearing.
[spacer size="40″]
[cwa id='leadershipfacilitiespdfdownloads']
[spacer size="20″]
[spacer size="20″]