Interpreter booth hire Dortmund, translator booth hire in Westphalia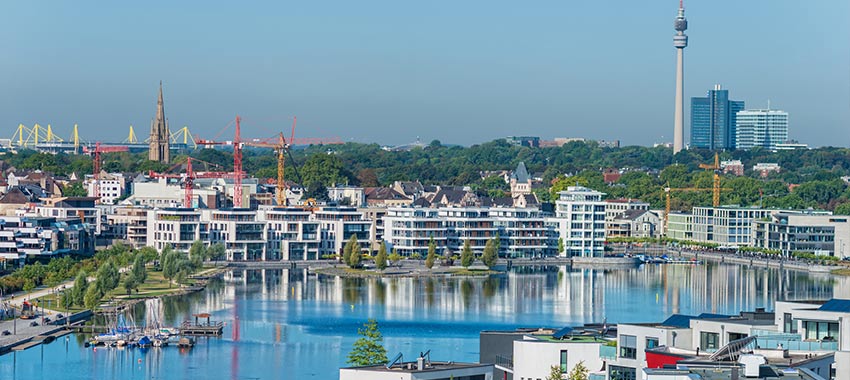 Simultaneous interpreters at multilingual congresses need the highest concentration – for their strenuous job and an appropriately equipped working environment. Professional interpreting booths are characterized above all by very good sound insulation, reliable simultaneous technology and good ergonomic conditions.

PCS supplies the organizers of multilingual conferences and meetings in Dortmund with interpreter and language booths from its headquarters in Düsseldorf. For the rental of interpreter booths, PCS relies on the Silent 9300 series from the Dutch brand manufacturer Audipack, which is now the industry standard. This also has the advantage for customers that the interpreter booths are compatible with all standard interpreting systems.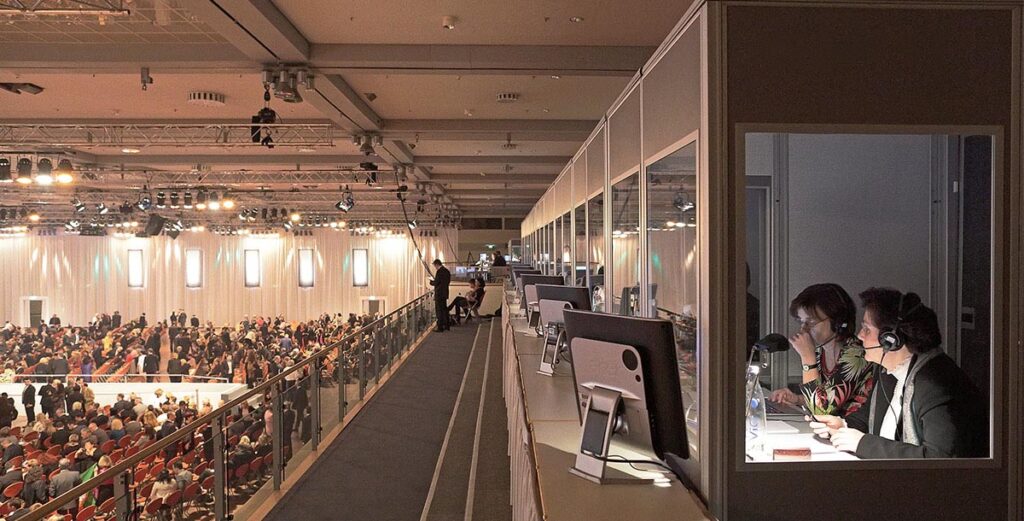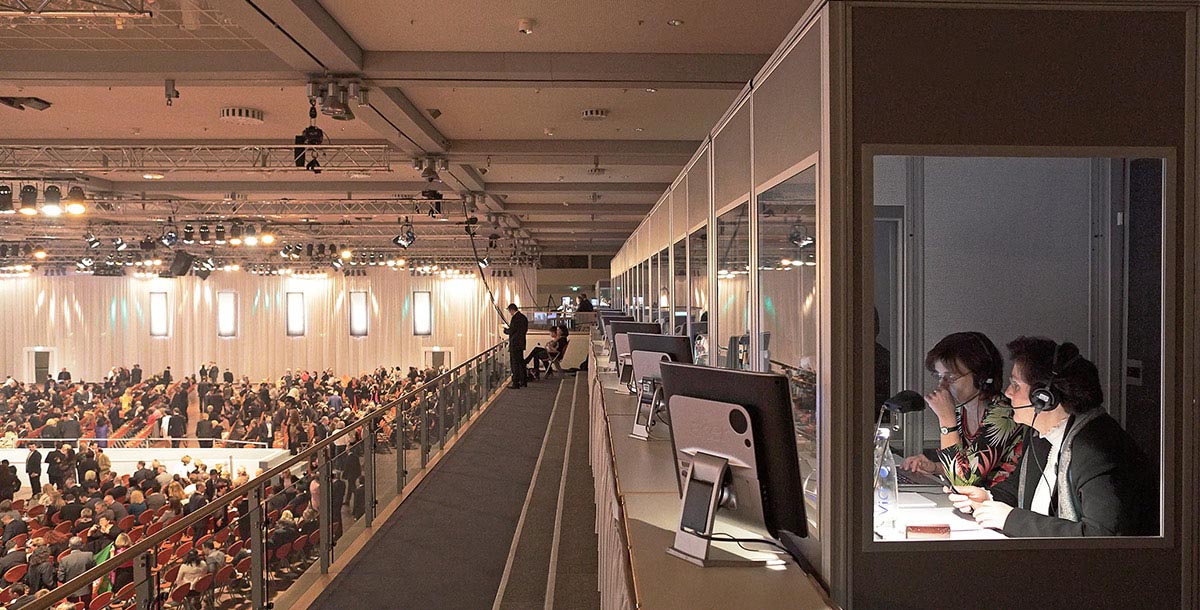 Excellent sound insulation, high flexibility and industry standard
For the rental of translator booths in Dortmund and Westphalia, PCS relies on booths of the Silent 9300 series from the Dutch brand manufacturer Audipack. PCS rents interpreting booths for multilingual congresses, shareholder meetings, board meetings, multilingual corporate events and EU works council meetings. Event locations in Dortmund include the Messe Westfalenhallen Dortmund, the Lensing-Carree Conference Center, but also the numerous conference hotels in Westphalia. The translator booths of the Silent 9300 series from Audipack score above all with the following technical features:
Specifications of PCS interpreting booths (Audipack Silent 9300 Series)
Audipack interpreter booths are certified according to ISO 4043/2016 standard and DIN 56924.
160cm x 160cm x 200cm (W/D/H)
168cm x 168cm x approx. 220cm (with fan, W/D/H)
(Please allow 0.5m space on the left, right or back for door and passage)

Floor plan of PCS interpreter booths

Downloads: Manuals, assembly instructions, info brochures
Optimal working environment for Dortmund interpreters
Interpreting booths of the Audipack Silent 9300 series offer simultaneous translators and conference interpreters an optimal working environment, even in Dortmund's congress halls. Those who rent interpreting booths from PCS in Dortmund and the surrounding area are not only offered the individual "language boxes": The range of services extends from planning and detailed technical advice in the run-up to the event, to on-time delivery of the booths and setting up the interpreting equipment. In addition, it can be guaranteed that PCS's trained staff will also look after the interpreters throughout the conference.
To rent interpreting booths in Dortmund and Westphalia, it is best to contact the PCS office in Düsseldorf. For a first concrete offer, it is important that you know approximately how large the conference room is, how many participants you expect and into which languages translation is to take place.

Rent interpreting booths Dortmund
Venues for events and congresses in Dortmund
Messe Westfalenhallen Dortmund, Dietrich Keuning House
Westhusen Castle
Dortmund U
Lensing-Carree Conference Center
Concert Hall Dortmund
Event church Dortmund
Mr. Walter
Hoesch Museum
German Football Museum
CineStar Dortmund
Daddy Blatzheim
SIGNAL IDUNA PARK
Freischütz
Hansa coking plant
Parking garage Barop – Stolzenhoff
RUSH HOUR
Schürmanns in the park
Lakeside pavilion
Eventhouse / Sunshine Hotel
Rotunda in the Museum of Art and Cultural History
The main event hotels in Dortmund
Parkhotel Wittekindshof
Radisson Blu Dortmund
Mercure Hotel Dortmund Messe & Kongress Westfalenhallen
Mercure Hotel Dortmund Centrum
Arcadia Grand Hotel Dortmund
Ringhotel Drees, Best Western Hotel Dortmund Airport
TOP Conference Center Dortmund
TOP Hotel Esplanade
Steigenberger Hotel Dortmund
DJH Youth Hostel Adolph Kolping
Dortmund trade fair and the most important trade fair dates
Cake & Bake Germany
Best of Events International
German carrier pigeon exhibition
Glasses & Co vivanti
EMPACK Dortmund
HUNT & DOG
FISH & ANGEL
electrical engineering,laundry and more, maintenance Dortmund
PUMP & VALVES
INTERMODELLBAU
SCHÜTTGUT
RECYCLING TECHNOLOGY
Hands-on Production
WM Workshop Fair
FAIR FRIENDS
InterTabac
THE INITIAL
DORTMUNDER AUTUMN
DKM
German Comic Con Dortmund
Service, acceptance, offers
Our colleagues will help you answer your questions, advise you on products, create a personal offer or individual project planning.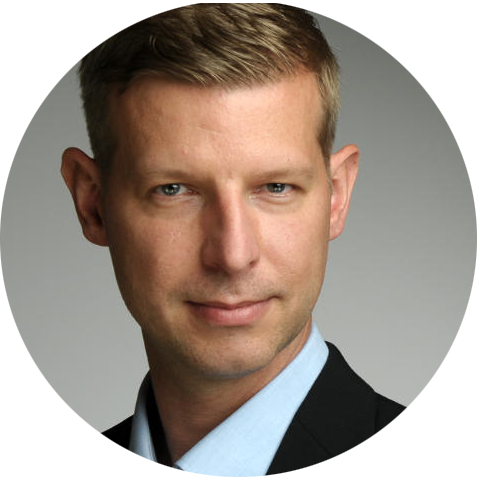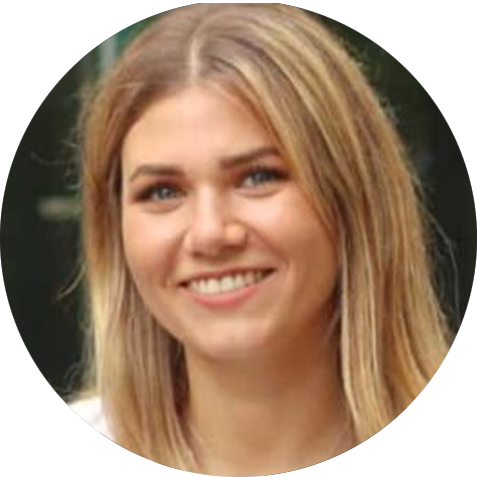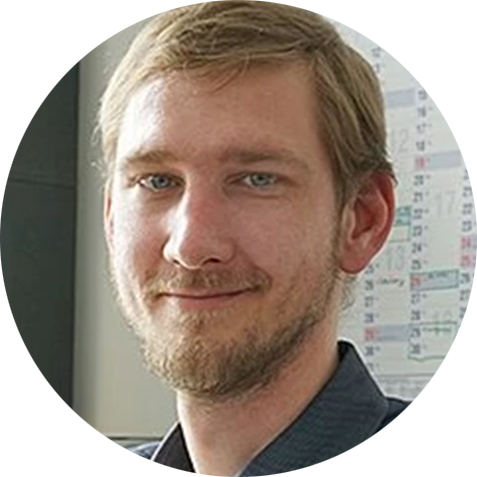 Callback service / e-mail inquiry