Rent interpreter booths Münster, rental of interpreter booths in Münsterland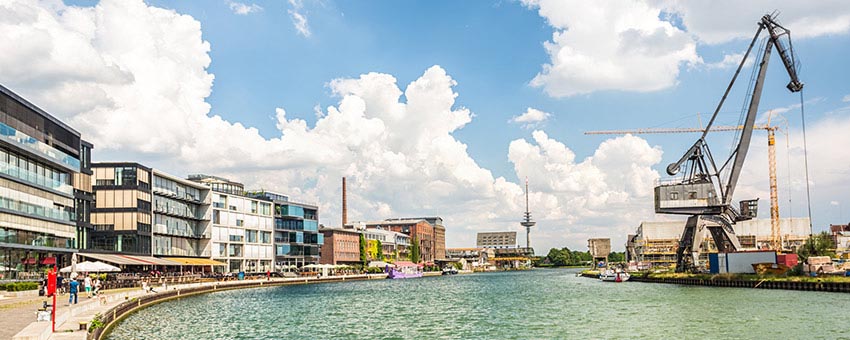 When simultaneous interpreters work at large conferences or congresses, their workplace is usually located in an interpreter booth – often also referred to as a translator booth or language box. In order for conference interpreters to continuously perform well during, interpreting, the translator booths should meet certain quality standards. A key quality criterion for interpreter booths is soundproofing: the less disruptive noise from the conference penetrates inside, the better simultaneous interpreters can concentrate on their task.

PCS supplies the organizers of multilingual conferences and meetings in Dortmund with interpreter and language booths from its headquarters in Düsseldorf. For the rental of interpreter booths, PCS relies on the Silent 9300 series from the Dutch brand manufacturer Audipack, which is now the industry standard. This also has the advantage for customers that the interpreter booths are compatible with all standard interpreting systems.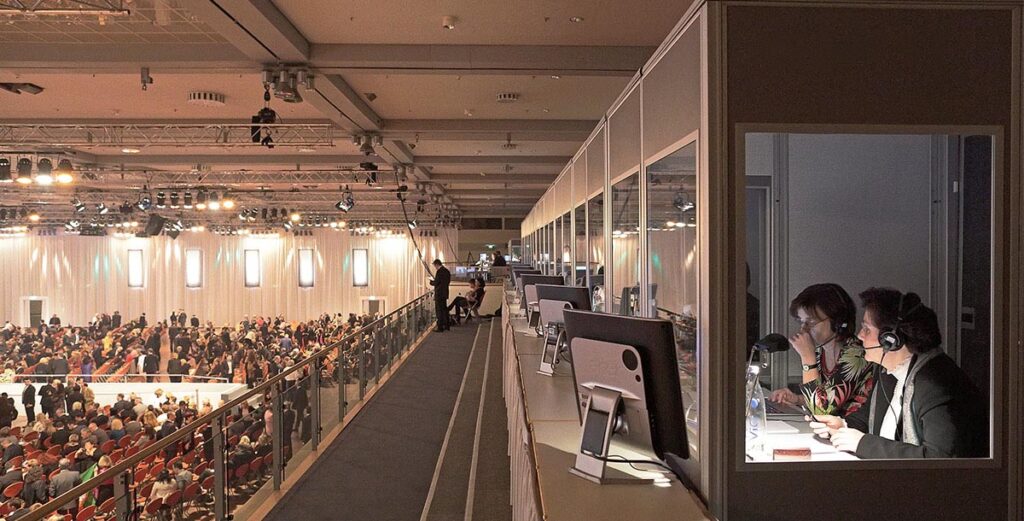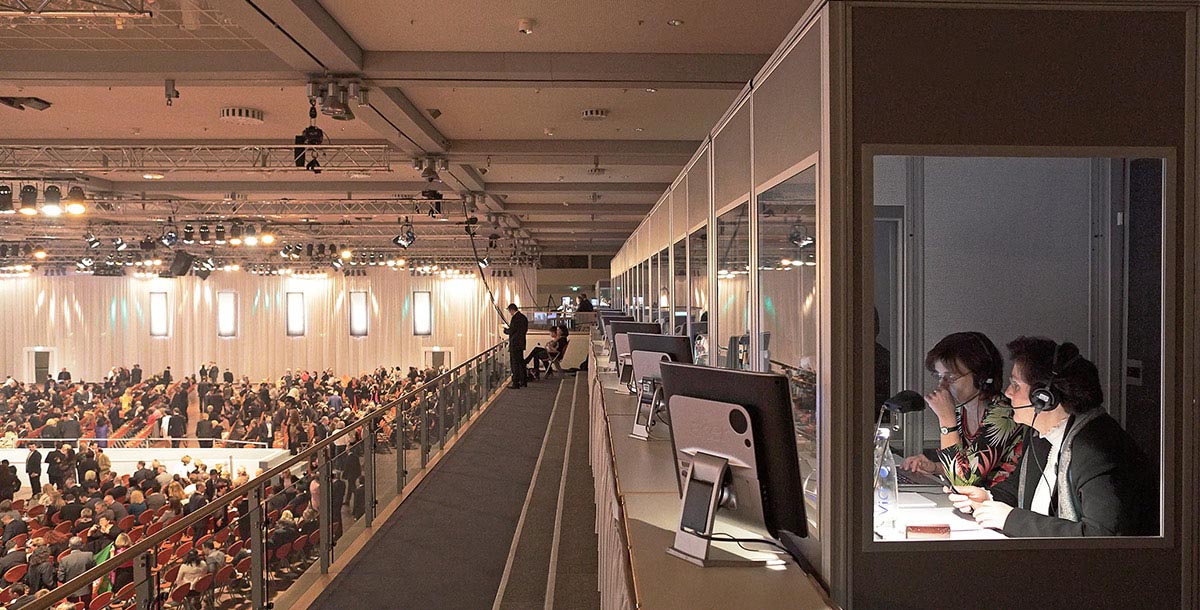 Large windows, almost soundproof, industry standard
PCS supplies Münster and the Münsterland region with interpreter booths of the Silent 9300 series from the Dutch brand manufacturer Audipack. These are characterized by the following technical key data, among others:
The soundproof interpreter booths / speaker boxes of the Audipack Silent 9300 series are supplied in a discreet light gray or mouse gray color with interior dimensions of 160 x 160 x 200 cm. The external dimensions are 168 x 168 x approx. 220 cm, the weight of a standard booth is 210 kg.
Specifications of PCS interpreting booths (Audipack Silent 9300 Series)
Audipack interpreter booths are certified according to ISO 4043/2016 standard and DIN 56924.
160cm x 160cm x 200cm (W/D/H)
168cm x 168cm x approx. 220cm (with fan, W/D/H)
(Please allow 0.5m space on the left, right or back for door and passage)

Floor plan of PCS interpreter booths

Downloads: Manuals, assembly instructions, info brochures
Interpreter booths in Münster: rent instead of buy
Interpreting booths are mostly used in Münster and the Münsterland region for multilingual congresses, conferences, board meetings, round tables or shareholders' meetings. Typical venues include conference hotels, the Messe und Congress Centrum Halle Münsterland MCC or the Stadthalle Hiltrup. PCS recommends that congress organizers from Münster and the surrounding area rent interpreting booths rather than buy them. When renting interpreting booths, PCS customers have access to customized services for every event that go far beyond simply providing interpreting booths:
For an initial quote, conference organizers from Münster and the Münsterland region are best advised to contact the PCS corporate headquarters in Düsseldorf. It is helpful if approximate details of the room size, the expected number of participants and the languages into which translation is to be provided can already be given.

Rent interpreting booths Münster
Venues for events and congresses in Münster
Messe und Congress Centrum Halle Münsterland – MCC
City Hall Hiltrup
Westphalian Wilhelms University Münster
Münster University of Applied Sciences – Fachhochschulzentrum (FHZ)
Münster Castle
Steinfurt Campus
Hüfferstiftung
Car dealer Siemon Münster
The main event hotels in Münster
Factory Hotel
DRK Conference Hotel Dunant
Tryp Congress Hotel Münster
Agora at the Aasee
City hotel Münster
Mövenpick Hotel Münster
Hotel Kaiserhof Münster
Best Western Premier Seehotel Krautkrämer
Ringhotel Landhaus Eggert
Beverland country hotel
Hotel-Restaurant Clemens-August (Ascheberg)
The most important trade fair dates in Münster
IAF – International Chassis Technology Exhibition
job fair münsterland
Starfire Tattoo Weekend Münster
LAB-SUPPLY Münster
Forum VIA Münster
COLERtechnika, Cinnamon & Stars
LADYLIKE Munster
JuBi Münster – The Youth Education Fair
DOGLIVE
MASTER AND MORE Fair Münster
BACHELOR AND MORE Fair Münster
HORIZON Münster
Art & Antique Fair Münster
Building & Living Münster
TEDDY BEAR TOTAL Münster
vocatium Münsterland
Service Station & Medium Business
AGRAR Entrepreneur Days
Diabetes congress
Ipomex
Wood construction days
mobile & fit Münster
Münster Waste Management Days
WLAT Münster
Service, acceptance, offers
Our colleagues will help you answer your questions, advise you on products, create a personal offer or individual project planning.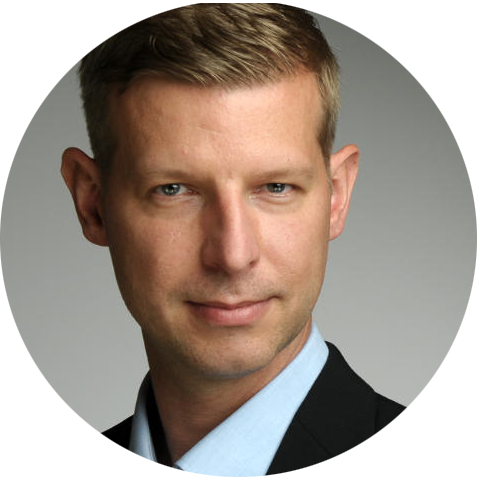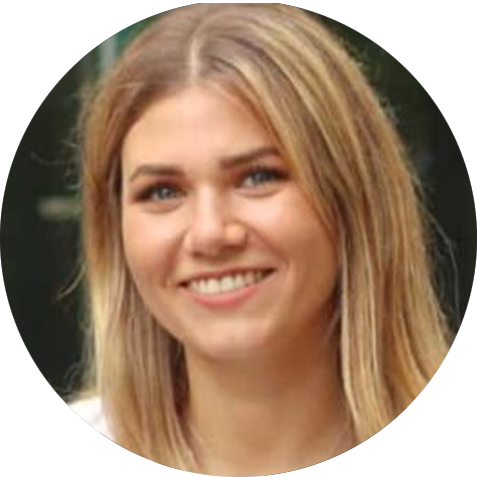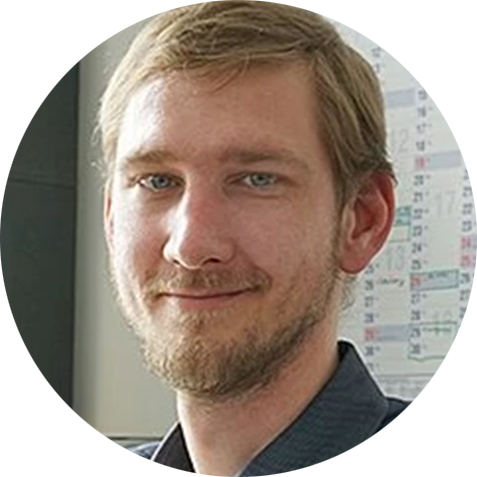 Callback service / e-mail inquiry