Interpreting equipment rental Duisburg – Interpreting systems rental, call station chains and radio equipment rental
Quick quotes, professional support, great choice of technology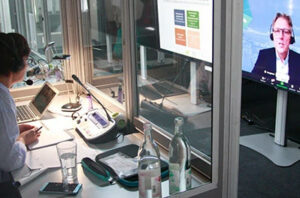 Our professional hubs for remote interpreting, interpreting for videoconferencing, streaming, on-site meetings
Rent interpreting and conference equipment in Duisburg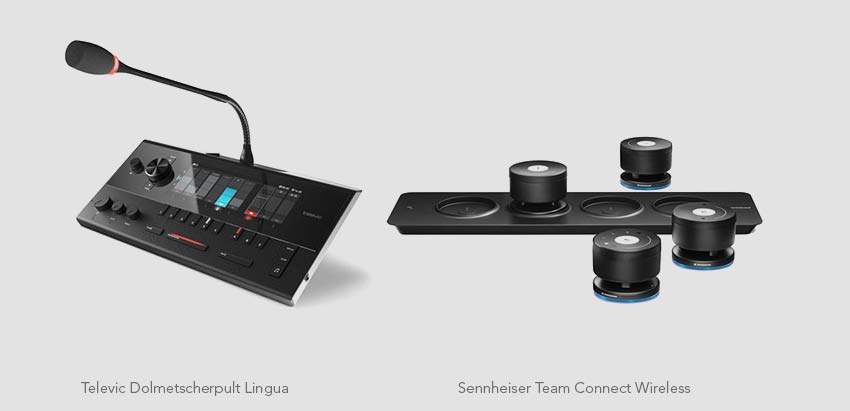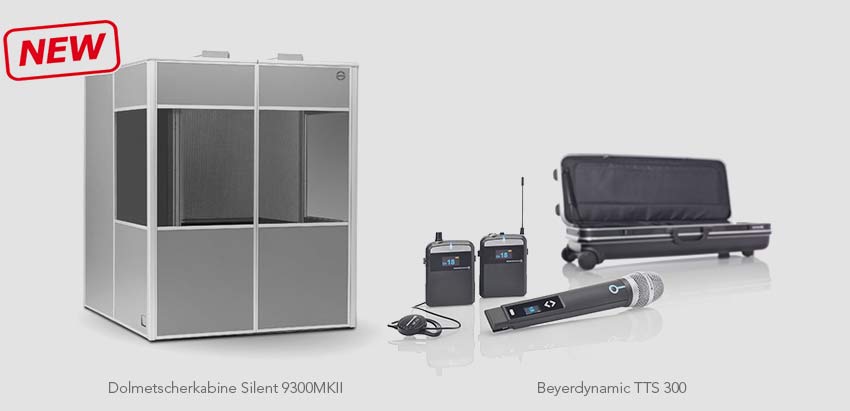 As a specialist for event technology, PCS offers comprehensive services in the field of interpreting technology – in Duisburg and the Ruhr area, not only with regard to the rental of complete systems or individual equipment, but also in terms of consulting and services.

What all interpreting systems rented by PCS in the Duisburg area have in common is that they are equipment from brand-name manufacturers that is regularly professionally maintained by PCS event technicians and undergoes a comprehensive functional test before each output.
Wide range of different interpreting systems
The following complete systems, plants and equipment are rented by PCS in the Duisburg area:
Complete systems for interpreting technology: Bosch DCN NG (Next Generation), Beyerdynamic product family SIS
Whispering systems (whispering cases): e.g. Sennheiser Digital Tourguide System 2020-D (among other systems)
Interpreter booths: Silent 9300 series from Audipack
Radio technology: various stationary or mobile transmitters or radio receivers, mainly from Beyerdynamic and Sennheiser
Infrared technology: e.g. transmitter/receiver Bosch Integrus, infrared radiators LBB 4511/00 and LBB 4512/00
wireless and wired call station chains with the possibility of listening to the interpreter channel
In addition to the high level of technical reliability, the wide-ranging consulting and service offering is a key advantage when renting interpreting technology in Duisburg and the surrounding area. PCS technicians and project planners advise their Duisburg customers from the very first inquiry and actively support them in the technical planning of events as well as in the selection of the most suitable systems. Systems that are in demand frequently or in large quantities are also available in high volumes. Accordingly, PCS's consulting services are popular with professional congress organizers and event agencies as well as with companies from every sector and with organizing interpreters.
Integration of interpreting technology into existing sound systems The services offered with the rental of interpreting technology in the Duisburg area include, among other things, the on-time delivery of systems of any size directly to the event location. PCS technicians set up the systems and, if necessary, connect them to existing sound or video systems. One advantage is that the systems rented from PCS are usually compatible with the systems of all major event technology providers. In addition, PCS can also provide technical support for ongoing events on request. Interpreting equipment rented from PCS in Duisburg is used, among other things, at international corporate events, European works council meetings and board meetings – but also at multilingual cultural events or at court hearings where simultaneous interpreters are employed. The Duisburg area and the entire Ruhr region are served by the PCS headquarters in Düsseldorf. Inquiries from Duisburg are always welcome by phone or e-mail.
Interpreting equipment hire Duisburg
Venues for events and congresses in Duisburg
Duisburg North Landscape Park
City Palais Duisburg
University of Duisburg-Essen
Community center Hagenshof Duisburg
Rheinhausen Hall Duisburg
Adult Education Center Duisburg
Duisburg City Library
Music and Art School Duisburg
Theater Duisburg
Theater at the Marientor
KOM'MA Theater
Local harmony
The column
Lehmbruck Museum
cubus art gallery
Small concert hall Duisburg
Küppersmühle
MEZZOMAR lake house
Steinhof Duisburg
interlockingHOF
Schauinsland Travel Arena
The most important event hotels in Duisburg
Maritim Hotel Duisburg
Wyndham Duisburger Hof
Mercure Hotel Duisburg
IntercityHotel Duisburg
The most important trade fair dates in Duisburg
Locations Rhine-Ruhr
Building & Living Duisburg
Health Fair-Duisburg
architectureworld
FORUM BEFA Duisburg
HistoriCar
jobMESSE Duisburg
International cat show Duisburg
Wonderful wedding Duisburg
Photo+Adventure Duisburg
Fishing
The Wedding Show by Gala Rhein-Ruhr
Service, acceptance, offers
Our colleagues will help you answer your questions, advise you on products, create a personal offer or individual project planning.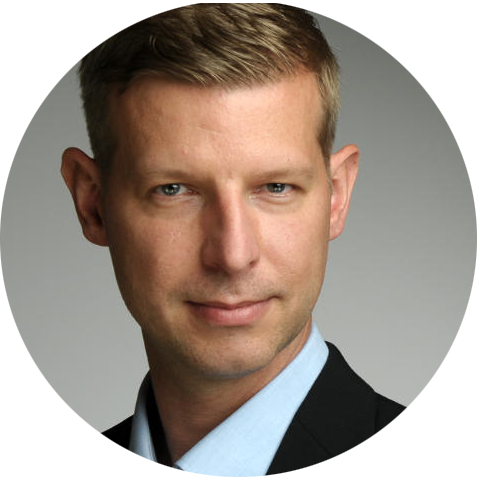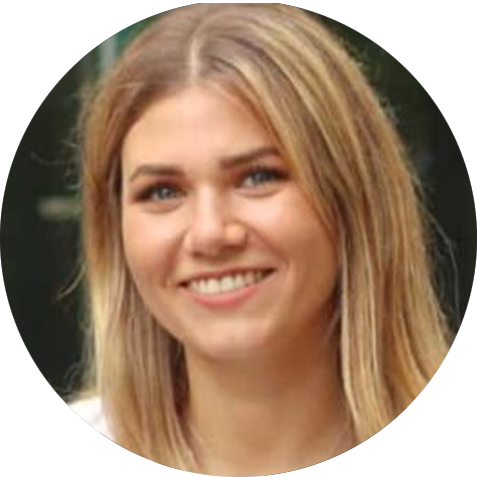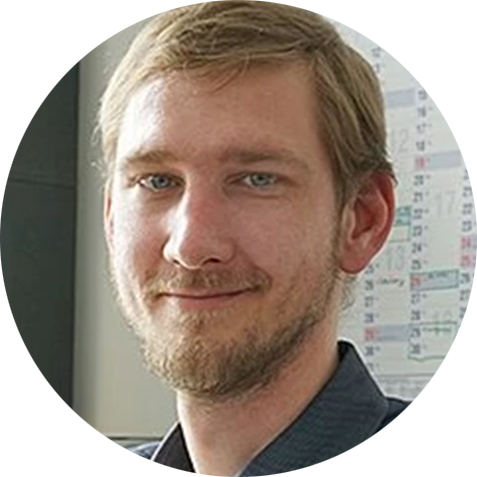 Callback service / e-mail inquiry