Interpreting equipment hire Essen – Interpreting desks, conference receivers and whispering equipment
Quick quotes, professional support, great choice of technology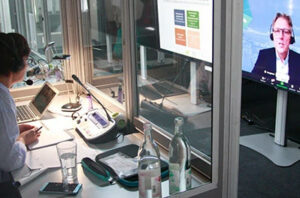 Our professional hubs for remote interpreting, interpreting for videoconferencing, streaming, on-site meetings
Interpreting and conference equipment for hire in Essen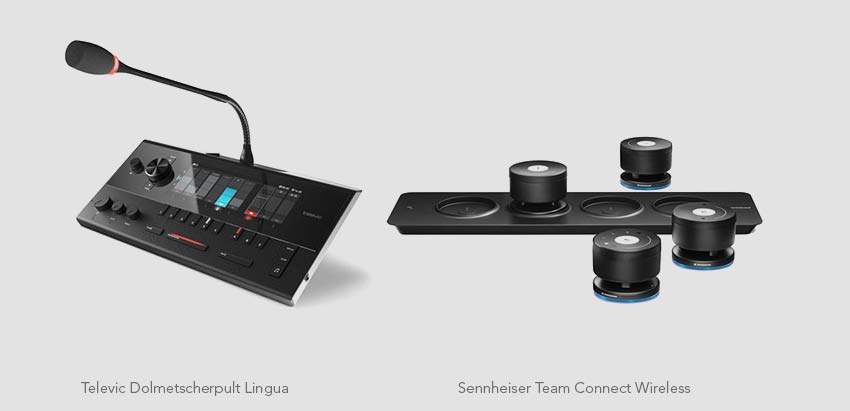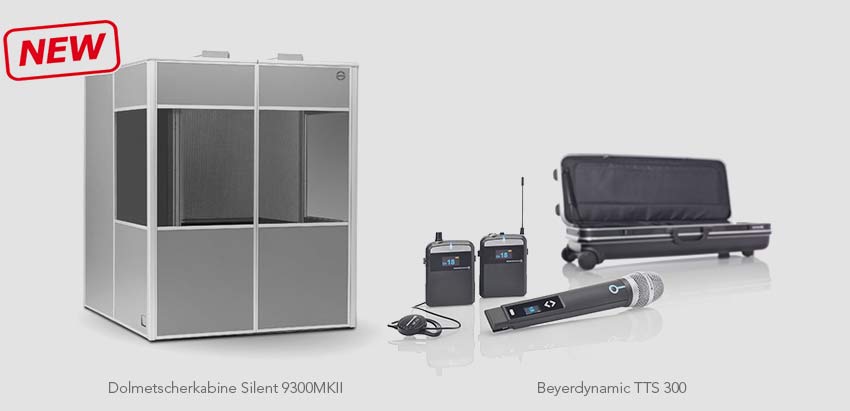 PCS rents interpreting equipment in the Essen area to event agencies, organizing interpreters, technical service providers, associations and companies of all sizes. PCS relies on brand manufacturers such as Bosch, Audipack, Beyerdynamic and Sennheiser. In the Essen area, PCS primarily rents products from Bosch and Beyerdynamic for the central control units, which function either together with radio or infrared transmission systems:
SIS product family from Beyerdynamic with control center SIS 121 / SIS 122; interpreter console SIS 1202; interpreter headset DT 394
Bosch DCN NG (Next Generation); Bosch DCN CCU / CCU2 central unit; Bosch DCN IDESK interpreter console
In a broader sense, the term interpreting technology includes the following equipment and devices:
Interpreter booths
Conference receiver / chin bar receiver / headphones
Interpreter desks (with headset or with microphone & headphones)
wireless or wired microphone units / discussion systems / microphone chains
Radio transmission technology, infrared transmission technology
Whispering systems / Whispering cases / Passenger guidance systems (PFA)
Integration of interpreting, audio and video technology
In particular, PCS provides frequently requested equipment and systems for the Essen area, even in large quantities. As a full-service provider in the field of event technology, PCS also rents out sound and video technology systems that are compatible with all common interpreting systems. Renters of interpreting technology in Essen can therefore obtain individual devices from PCS as well as comprehensive event technology systems – i.e. in addition to the above-mentioned interpreting technology, for example, also sound systems, displays, projectors or screens.

A key advantage of renting interpreting technology is the comprehensive range of consulting services provided by PCS's project planners and event technicians. They support Essen interpreters, agencies and direct customers in technical event planning as well as in the selection of suitable systems. Another advantage of rental systems is the wide range of services PCS offers its customers at the Essen location. This includes the delivery of the interpreting systems directly to the event location and the technical setup on site as well as the support during the entire event.
From multilingual congress to accessible theater
Interpreting technology is also used in Essen, for example, at multilingual conferences and congresses, specialist conferences, shareholders' meetings and European works council meetings. Typical venues in Essen include the facilities of the Zollverein Coal Mine Industrial Complex and the Congress Center Essen. A field of application for interpreting technology that is also growing in importance in Essen is the area of accessibility. In concrete terms, this involves the equal inclusion of people with impaired hearing at events. With the help of interpreter technology, the loudspeaker signal can be transmitted directly to hearing aids in cinemas or theaters, for example, by means of an induction loop.

PCS organizes the rental of interpreting equipment in Essen from its Düsseldorf headquarters. Inquiries from the Essen area are gladly accepted both by e-mail and by customer telephone. E-mail inquiries are usually answered within one hour.
Interpreting equipment hire Essen
Venues for events and congresses in Essen
Essen fair
Congress Center Essen
Grugahalle
Octagon Zollverein Colliery
Casino Zollverein Colliery
Erich Brost Pavilion
SANAA
Grand Hall Zollverein
Colosseum Theater Essen
Lichtburg
Philharmonic Conference Center
RUHRTURM
Stadium Essen
Astra Theater
Red Dot Design Museum
The main event hotels Essen
Welcome Hotel Essen
Hotel Bredeney
Embrace Hotel Franz
Mintrops Country Hotel Burgaltendorf
Mintrops City Hotel Margaretenhöhe
Atlantic Congress Hotel Essen
Intercity Hotel Essen
Essener Hof
Holiday Inn Essen
Hugenpoet Castle Hotel
Messe Essen and the most important trade fair dates
ITSC
IMP Essen
Market Mobile
DCONex
E-world energy & water
FAHRRAD Essen
Travel + Camping
Equitana
Techno-Classica Essen
BabyWorld
European Bridal Week
Metpack
International Stamp Fair
all about automation, lighting technology
Essen Motor Show
Service, acceptance, offers
Our colleagues will help you answer your questions, advise you on products, create a personal offer or individual project planning.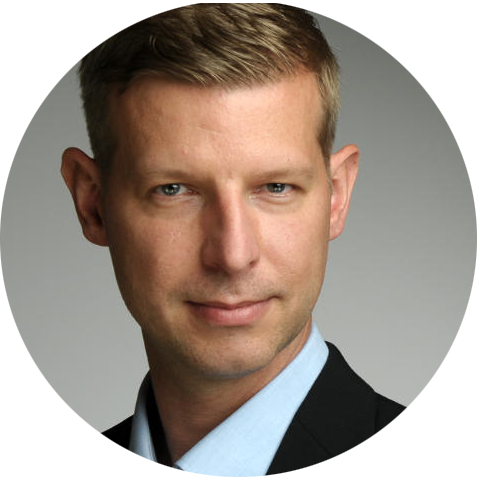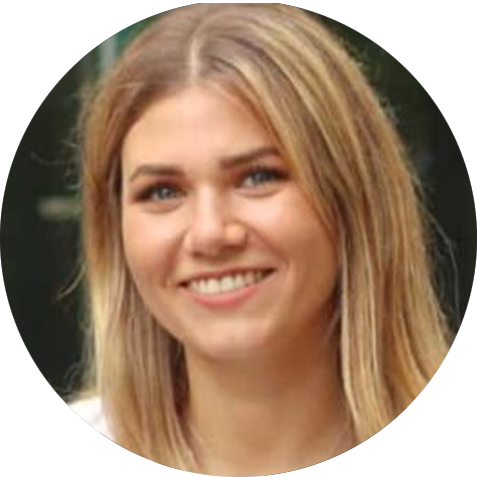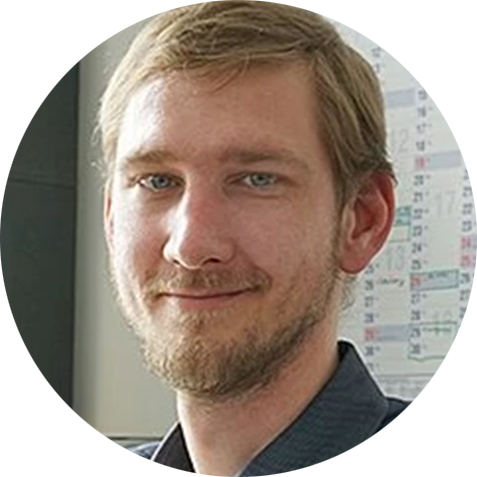 Callback service / e-mail inquiry