Rent microphone units Bonn – PCS Konferenztechnik rents discussion systems for your meeting or conference on the Rhine River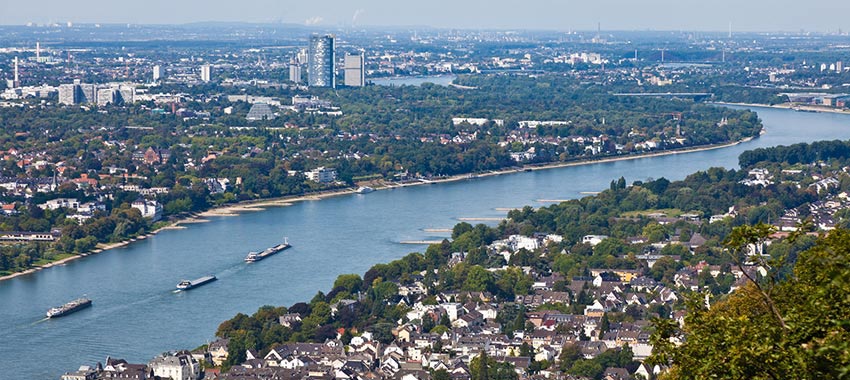 The modern, simple design is shapely and discreet and fits both in...
› more
Now it's getting musical. Beethoven's birthplace Bonn, situated on the Rhine and with a history of over 2,000 years, has also become an international conference location in recent years.
Whether meeting, conference or round table – for your discussion round in Bonn, we at PCS supply the appropriate technology such as microphone units, microphone chains and interpreter booths. With more than 20 years of experience, we are experts in the field of conference technology and are happy to provide you with the appropriate equipment.
Depending on the area of application, we will equip you with wired or wireless table microphone units or discussion systems. In addition to individual and professional advice, we are also happy to provide overall technical support for your meeting by our trained event technicians.
The table microphone units and discussion systems rented from PCS Konferenztechnik are checked before and after each event, so that you always receive flawless technology.
Intercom stations from PCS Conference Technology – models and features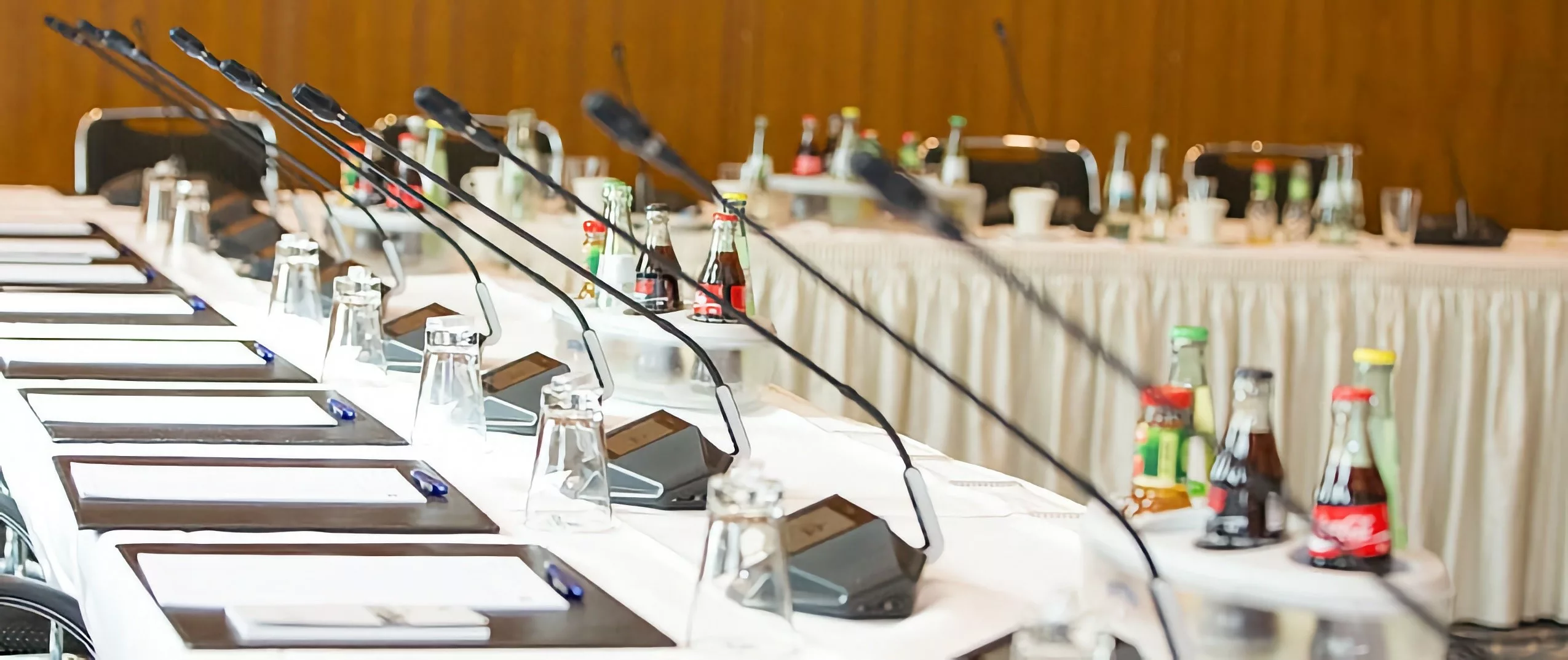 Not all microphone units are the same. There are wireless and wired desktop microphones. Intercom stations without cumbersome cables are particularly flexible in use and quick to set up and take down. Microphone chains are microphone units connected by cables. These are more suitable for very large meetings that last for days, as no batteries need to be recharged in between.
Interpreting channels instead of conference receivers – we also rent microphone units that have a translation channel. This means that the respective national language of your participants reaches their ears directly from the interpreting booth. Built-in loudspeakers on the microphone units themselves provide the sound. Our microphone units can also be connected to an external sound system.
Different software solutions control the microphone units, record the meeting, which is important in a courtroom, for example, or record the discussion in sound and vision. Dome cameras are particularly popular for video conferences. They are automatically aimed at the active microphone units, so that all conference participants always have the respective speaker in view.
Intercom stations are the guarantee for orderly meeting discipline and increased speech understanding. They can also be easily combined with other technology.
Paging stations for rent Bonn: Manufacturers and conference systems at PCS


Venues for events and congresses in Bonn
World Conference Center Bonn
Bad Godesberg City Hall
Telekom Dome
Bridge Forum Bonn-Beuel
Deutsche Welle Bonn
Hardtberg School Center
Bonn-Rhine-Sieg University of Applied Sciences (Sankt Augustin)
Castle Kommende
Beethovenhaus
Beethoven Hall
Women's Museum Bonn
Bread factory
STELLA RHENI
Plan B.
Tanzhaus Bonn
The most important event hotels in Bonn
Maritim Hotel Bonn
Kameha Grand Bonn
Mercure Hotel Bonn Hardtberg
Hilton Bonn
Collegium Leoninum, AMERON Hotel Königshof
President Hotel Bonn
Günnewig Hotel Bristol by Centro Hotels
Günnewig Hotel Residence
Gallery Design Hotel Bonn
Hotel-Restaurant zur Post Bonn
Dorint Hotel Venusberg Bonn
Derag Livinghotel Chancellor
Seminaris Hotel Bad Honnef
Commundo Conference Hotel Bad Honnef
Steigenberger Grandhotel Petersberg (Königswinter)
The most important trade fairs in Bonn
FedCon
vocatium Bonn/Rhine-Sieg
women&work
PHARMA MARKETING
Bonn real estate fair
Bonn Gemstone Days
Career Day Bonn
Company Day
In love! Engaged! We are getting married! Bonn
50 Plus – Joy of life Bonn
JuBi Bonn
InnoVario
Bonn Building Days
INTERPHARM
HAPTICA live
bonn healthy
Off into the world Bonn Fair
culinaria Bonn
Bonn bike travel fair
COMMITMENT WORLDWIDE
femme Bonn
GODEMA
Bonn Art Fair
Service, acceptance, offers
Our colleagues will help you answer your questions, advise you on products, create a personal offer or individual project planning.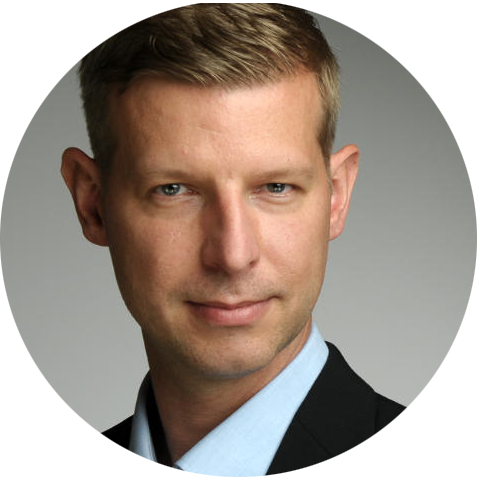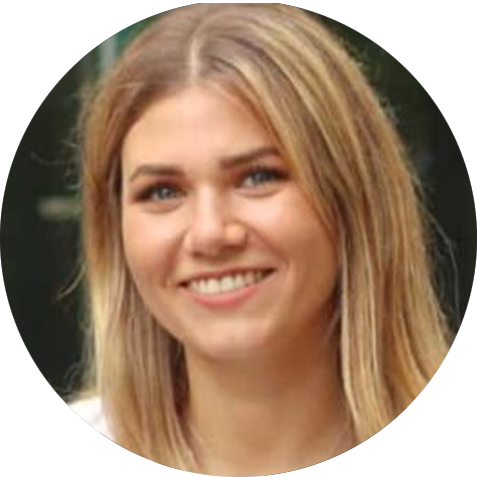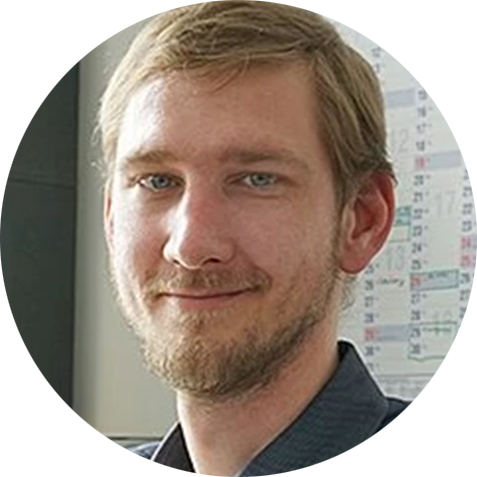 Callback service / e-mail inquiry